Be The Next Small Business Success Story
Wouldn't it be nice to dominate your competition? How about cultivating your online presence in a way that increases your bottom line? Lucky for you, it's what we do best. As a Top Los Angeles based digital marketing agency, we over-deliver on your success. Providing affordable solutions for SEO, SEM, Social Media, Local Listings Management, Conversion Rate Optimization, and even Content Marketing services, we guarantee to triple your online sales. We call it the "Lion's Share Local guarantee": if we don't see results within 6 months, we pause your billing until we do. To this day we haven't had to pause a single bill… But the belief in our process is real, and so is our committment to you.  
Long Term Results That Matter
Did you know that only 3-5% of your current website visitors are in the buy now mode?  Engaging with prospects on their journey to purchase, we well as nuturing existing relationships, is absolutely essential. If you lack a top-of-mind awareness in relation to your online presence, you're flat out leaving money on the table. This is not to say that increasing your brands online presence is an easy task. In fact, many questions surround the topic of Search Engine Optimization (SEO) and Internet Marketing. But, as your personal and professional online marketing team we'll prove to you that the money invested into SEO services is money well spent. 
Improve Search Rankings. Drive Traffic. Get Customers.
A data-powered market demands data-powered marketing. Using big data to drive big results, we create customer-oriented environments to get your business boomin'. This way you can spend more time doing what you love most; like working ON the business rather than IN the business; like spending more time traveling the world; or, simply spending more time with your family. Knowing the impact we have made thus far based off client revenue generated, thank you cards received, and referrals gained, we're dedicated to continue doing what we do best.
Lead Generation Services That Work
Responsive Web Design
Because 77% of mobile-users contact a business after searching local info.
Powerful Link Building
Links power the web. Quality (relevant) links push your site to the top of Google.
Authoritative Content
Our masterful copywriting skills rank you for your most profitable search terms.
Consistent Citations
Not in the Map Pack? Listing your NAP info across the web will get you there.
Optimized GMB
Google loves Google. Optimizing a Google My Business page makes them love you.
Ongoing Maintenance
Don't set it & forget it. We craft long-term SEO strategies for long term results.
"Whatever you're doing, keep doing it"
(What our clients tell us)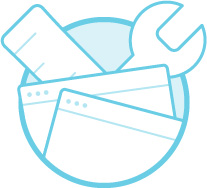 Responsive Web Design
70% of mobile searches lead to action within one hour–a call, a store visit, or a purchase. In other words, but you're leaving a lot of money on the table with a dinasaur as a website. As leaders in the small business internet marketing space, Lion's Share Local vows to make your website mobile, tablet, desktop, AND user-friendly, ready to convert your web visitors into paying customers. It's no joke, but you'll sure be laughing to the bank. Local SEO
Having a mobile-friendly site is essential, but it's just a start. If you want to expand your reach, local SEO is the way to go. Since 88% of consumers trust online reviews as much as personal recommendations, it's wise to have customer reviews clearly visible on your website. In addition to achieving social proof, we'll create unique content that people love, and build authoritative votes back to your site that makes Google love you.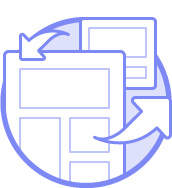 Local Lead Generation
Knowing how to drive ready-to-buy traffic at a ready-to-buy time is pure gold. Still, some SMBs don't care for owning a powerful website; some just want more business. At Lion's Share Local, we understand that. And that's where our network of local lead generation sites play a huge role. Simply rent out a niche-specific site (month to month), enjoy exclusive leads, & cancel anytime. Connecting with the people that matter most has never been easier.
Lion's Share Local taught me about the art of lead generation. This was the service I had been looking for all this time. Too often I had heard the term SEO thrown around, but Joseph explained the importance of conversion to me. I quickly learned that just because I was having SEO done, did not mean I would see a return on my investment. When Lion's Share Local says they specialize in SEO practices that convert searchers into paying customers, they really mean it.
Seth R.
I have been burned by SEO companies in the past and I was skeptical of reaching out to a new SEO agency. I knew I had a lot of room for improvement when it came to my web presence so I continued searching for the right fit for my small startup. On our initial call Joe explained exactly what he would be doing in laymen's terms and told me it would take about 4-6 months to see results in my local market. Joe managed to get me ranked for my most profitable search terms and a bunch of other valuable terms in less than two months!!
Jon G.
Lion's Share Local took the time to break down their process for me, and made it very clear what goes into ranking my website. They managed to get me to page 1 of Google just inside of 3 months, and business started coming in at a pace I wasn't ready for. Make sure you have the capacity for more work because this SEO company really delivers on bringing in more customers. Completely the opposite of my past experiences with SEO agencies in Los Angeles!
Brenda C.